The Center for Therapeutic Expressive Arts
offers you a chance to learn, explore and teach Trauma Sensitive, Mindful Meditative Art for groups and individual coaching sessions through this 250 hour program, accredited by the CTAA.



About the Program
Become a Trauma Sensitive Mindful Meditative Art Facilitator and Life Coach
A mindful and meditative expressive arts facilitator is someone who leads mindfulness and meditative practices, combining them with art making that creates a sense of mindfulness or moving meditation. T
he Foundations of this Online Mindful Art and Meditation Teacher Training Certification Program, includes 250 hrs of Trauma-informed Expressive Arts and Mindfulness practices.

Facilitators can work with small or large groups and 1:1. With life coaching training, it enhances your ability to coach your clients into even deeper levels of connecting with themselves.  



Mindful Expressive Arts embody visual art, music, performing arts, narrative art, dance and film and the process takes you through a format for running groups that incorporates a variety of methods of mindfulness, meditation and breathwork. Courses are expressive arts based incorporating music, poetry, film, drama, dance, etc. The program explores how to facilitate groups in workshops of self discovery, intuitive processes and well as meditative and mindfulness based art making. Art has it's own language and speaks volumes in that language when words cannot be found. Including the expressive arts of writing, movement and music deepen the practice. This program has focused strongly on expressive art, but also includes instruction on how to use writing, music and movement with it.
It is process oriented, meaning it is expressive, intuitive and allows and focuses more on the process involved in making the art than the end product.
You will be taught how to make your mindful and meditative art practices trauma sensitive, the basic fundamentals of understanding how trauma impacts the brain, core elements of the ACE study, it's impact on the body, be introduced to historical and intergenerational trauma and learn the therapeutic benefit of a trauma sensitive mindful and meditative arts practice.
This is a one of a kind program that does not exist currently anywhere else.
Expressive Arts Facilitators might be intuitive/expressive artists, counselors, academics, psychologists, social workers, teachers, nurses, yogi's, mindfulness teachers and practitioners, wellness coaches, youth group leaders and other helping professionals, such as non-profit workers and volunteers. 


Some facilitators of workshops have a knack for just knowing how to support people who are in their workshops. Others have never been in front of individuals in a workshop setting before, leading a workshop and need guidance. Some come to this work as intuitive healers and wise souls. Either way, if you have been drawn here, it is for a reason and we hope your path opens you to the abundance and jewels of the universe. You can even just go through the training to learn new things for yourself! 


No art experience is required. No degree is required.  This is not artmaking for a product to sell, to look good or to go on a wall. It can of course, but the entire purpose is using art to connect to your inner self, your soul, the universe, God, Creator. To honor the energy that runs through us and around us. To learn to listen to our inner self, develop our intuition and to learn to play and let go. Creating together on individual and collective art projects connect individuals coming together in community.


Complete the content at your own pace. Complete the practice logs, the written workshop lesson plans and the facilitation practices as well as the other core courses for this certification and you will be ready to lead your own workshops, consult with individual clients or start your own mindful art business. 


The program is accredited through the Complimentary Therapists Accreditation Association with additional
Accredited Certifications being added.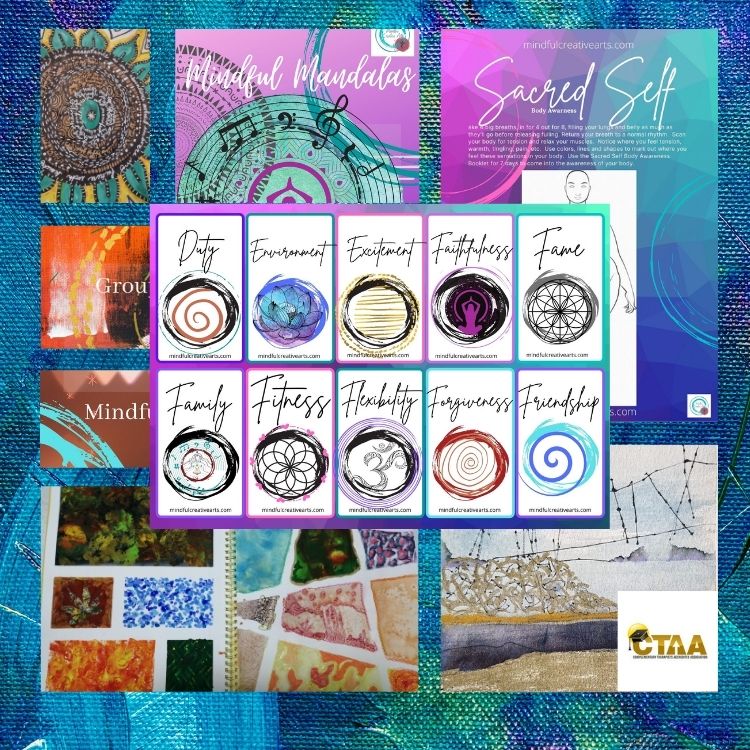 What Is Mindful Meditative Art?
Mindful Meditative Art is process oriented meaning were not focusing on a sellable product or a pretty picture to have at the end of your session.
Mindful Meditative Art focuses on developing the 9 Attitudes of mindfulness as identified in MBSR through art focused activities.
Mindful Meditative art is a moving meditation that you consciously engage in with focused, non judgmental awareness.
Mindful Meditative Art takes no formal art training or developed skills. Anyone can do it.
The Mindful Meditative Art program at CSTEA focuses on developing your practice as a Mindful Meditative Art Specialist and Facilitator while providing you with the skills and curriculum to teach and lead Mindful Meditative Art session for groups and individuals.
Mindful Meditative Art is a self exploratory practice that assists in consciousness awareness and self healing.
Mindful Meditative Art can be self healing and while it can have therapeutic benefit it is not art therapy.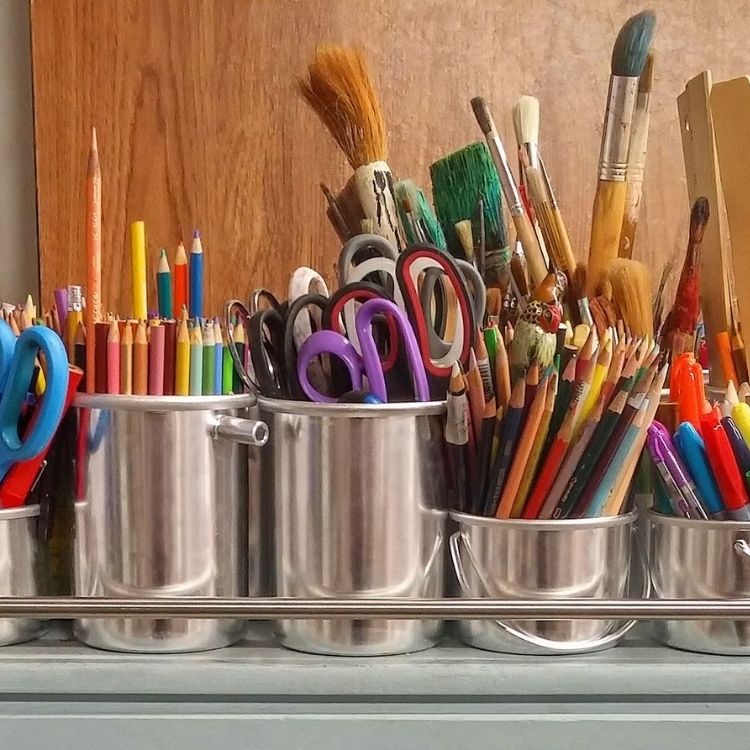 Multiple Media, Methods and Techniques with Group Facilitation Education
Education and guidance on in person and virtual group workshop facilitation as well as how to run Mindful Art Life Coaching sessions (sample curriculum included). We explore watercolor, mixed media, collage, basic printmaking, multiple types of mandalas and meditative mark making as well as Mindful Affirmation Art. Over 13 booklets included for download.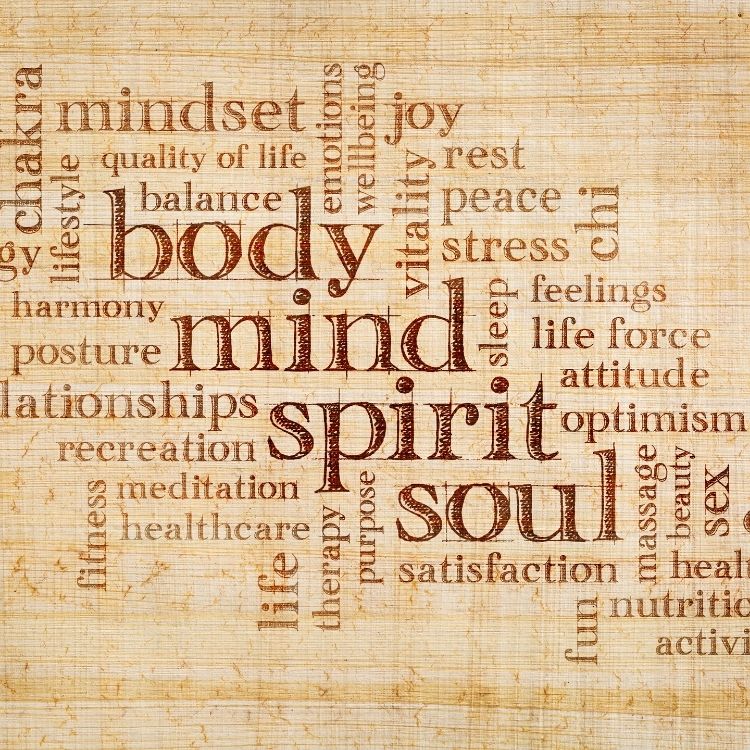 Mindfulness Education with MBSR as Foundation
You'll learn the foundations of MBSR based mindfulness including the 9 Attitudes, practices, grounding and breathwork while learning how to create a trauma sensitive mindfulness practice. Various types of meditation practices are included so you have a variety of experiences to explore. You are required to keep a log of your practice hours in mindfulness, mindful art , breathwork, grounding and meditation. You'll learn to write a lesson plan to pull your entire workshop together.
Tons of Resources!
More than 13 workbooks, multiple practice pages, Mindful Art Value Sort Game, downloadable chakra cards, meditation scripts, and more, all downloadable for you to keep.
The Creative Goodness You'll Receive
Over 100 lessons in trauma informed mindful meditative art education and practice development Trauma sensitive mindfulness applications and education


17 Booklets, over 1000 pages with resources for each module


The Sacred Self Values Sort Game that includes 3 different open ended expressive art activities to do with clients


Downloadable worksheets


Downloadable Infographics to use with your sessions


Downloadable assessments, lesson plans, Mindful Art Curriculum sample, meditation scripts, hand outs and forms for your practice


Training in MBSR core mindfulness practices, an overview of a variety of different meditation styles. practice logs, videos, audios and more


Process oriented mindful art making with expressive arts extensions in writing, music and movement


Mindful Art exercises in mixed media, collage, painting, drawing, and process oriented mandala making, with demonstration videos
Instruction, resources and support with group workshop and individual


Mindful Art Life Coaching for both in person and virtual sessions from a seasoned teacher, therapist and doctoral level practitioner


A certificate stating your completion of the program and certification status


The use of the MMA-FLC badge for your email signature, websites and marketing


Discount on the Level 2 MindfulArt Advanced Training and personalized coaching sessions.


On completion of this course, you will have access to join the CTAA if you please. As a member of the CTAA you will receive these benefits:


A Professional Certificate showing that you have full membership with CTAA as a Practitioner.


Access to discounted Therapist Practitioner Insurance with your membership (subject to their Insurance Partners)


Access to their CTAA


Logo to place on your Website/Social


Media/Email


Free CTAA Directory


Listing


Have the opportunity to write a blog/article within the complementary therapy field that you work, that will be shared on their Website and Social Media to enable you to reach a larger audience and have exposure to yourself and your website.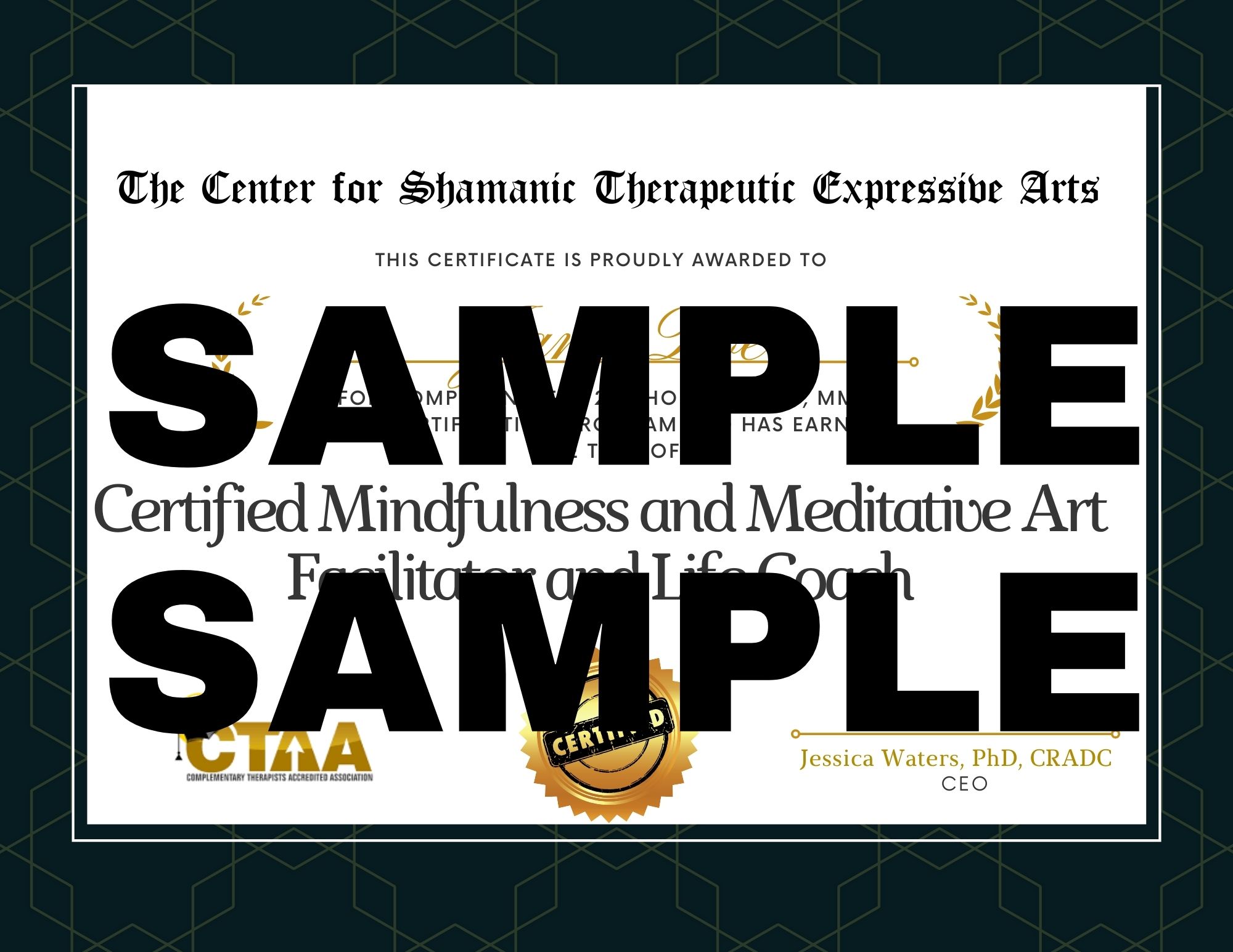 Earn your Certificate in an Accredited Program
Our program in accredited by the Complimentary Therapists Accreditation Association. With CTAA, you are recognized as having achieved high levels of learning with us. The program required a signed ethics agreement, mindfulness practice log, written lesson plans for the art modules, submission of your art products for review, completion of all lesson assignments, completing group facilitation of a workshop either online or in person and completion of a Mindful Arts Life Coaching Session either in person or virtually. 1:1 coaching is available for an additional fee.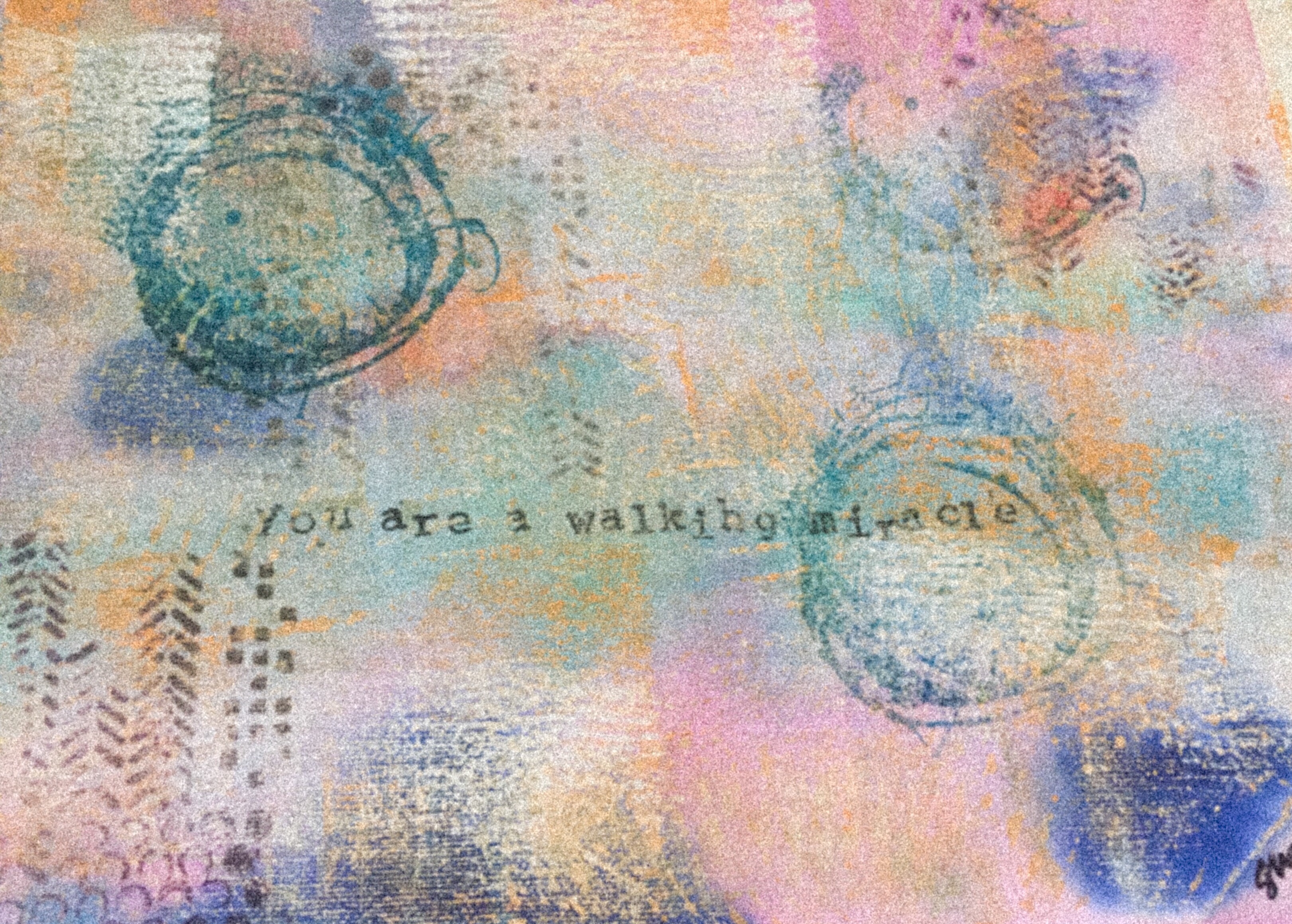 Kindred Spirit Testimonials
"Thank you for creating. I finally found a course that resonates with me. I want to use this to assist with my yoga workshop and future trauma-sensitive yoga classes."
"I have LOVED this module. I can already feel a big shift in my energy as I do these art projects. Thank you again for another amazing lesson."
"I've paid 2-3 times as much for trainings with not even half the content and resources you provide in this program. I love what you've done and am already using these ideas and mindfulness practices in my counseling sessions."
"Thank you so much for this program. It has changed my life and I am now pursing an art therapy degree because of the inspiration I received here."
"This program will help me reach out and serve the people in my community that struggle with abuse, poverty and trauma. This is exactly what I was looking for and what I need. I am home."
"I just love how you teach in your workshops. The energy flowing from you is amazing."
Why Teach Mindful Meditative Art Online or In-Person?
In the grand scheme of things, it was not long ago that connection to distant regions was possible only by telephone call, boat, or plane. Technology has boomed in recent decades, giving birth to online training programs and classes.
As a mindful meditative art teacher, opportunities to hold sessions both online, reaching a global audience, and in-person in your local community are available! Reasons for including virtual sessions include:




Pandemic safety

Ability to access a wider, more global audience

Increased ease of access for participants

Ability to easily record and return to teachings

Ability to teach live and/or by pre-recorded session

Depending on who you are and who your audience is, online mindful meditative art classes may be well-suited for you. Online teachings do not have to replace in-person classes entirely. In fact, many teachers are offering hybrids with both online and in-person classes.
If you are new to teaching mindfulness and meditation and want to learn how to include process art for a heightened experience and practice you can also consider our online, self pace, certification program.
"Our work is to educate people that the ultimate source of the happy individual, happy family, happy community, and finally happy humanity—even happy world—ultimately depends on warm-heartedness. This is not just the concern of religious people; it is the concern of humanity as a whole."
-The Dalai Lama-


Fees and What They Do
If you look around and compare other programs of this type, most are much, much higher in cost with less than 1/4th of the content we have and without the depth and bread or experience we offer. This program could easily retail for over 2500.00. Our focus however, is to try to make this as affordable of a process to you as possible, while still being able to be sustainable.
A portion of fees go towards supporting low income mental health, mental wellness coaching and substance abuse counseling in the states we offer support and creating homeless kits that go directly to street people in our area and to Family Promise of the Northland's Shower and Laundry Program for homeless women with children. Warm kits consist of thermal socks, gloves and hats, Mylar blankets, and hand and foot warmers. Cool kits consist of socks, hygiene kits, water, Mylar blankets, and protein snacks.
com
Check your inbox to confirm your subscription